Pictured above are the contents of my July Foodie Box.  The lovely Mrs. Cheryl hooked us up this month!  She really outdid herself, I must say!   Awesome!  She also sent recipes to go along with the contents.  My favorite and seriously NEW FAVORITE recipe was the Coconut Lime Chicken Soup.  You can click the link to enjoy the recipe!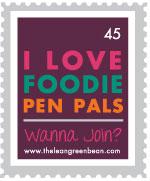 Here are the contents of the box.
Florida Oranges:  Being from FL, she had asked me if there was anything local I would like…  My answer of course was fresh squeezed orange juice!  LOL.  We all know that wouldn't work, so she sent me fresh Florida oranges! 
Coconut Milk:  I'd never had it before, so it was cool to try!  It has a very meaty flavor and was the base for the Coconut Lime Chicken Soup.  I loved it!!!  If you aren't a fan of coconut, you should still give it a try, it doesn't really taste like coconut does…  I always thought if I got stranded on an island I'd starve because I'm not a fan of seafood and I don't like coconut, but now I can sleep peacefully knowing I will at least have coconut milk!  😀
Dry Rice Noodles:  This one is a staple in our cabinet.  If you haven't tried them, I seriously suggest it!  They taste a lot different.  Just a little tip: they have to be soaked for half an hour before you cook them!!!  Learned that the hard way!  LOL
Homemade Kimchi:  Kimchi is a fermented Korean side dish made out of vegetables.  It has a strong smell and strong flavor!  Very interesting!
Squid Brand Fish Sauce:  Also a staple in our cabinet!  We use it in a LOT of Asian dishes.
Raw and Unfiltered Florida Honey (Orange Blossom):  Let's see….  Florida oranges and honey….  Certainly makes me want to hook up some chicken and dig in!!!  LOVE IT!!!  Amazing flavor!
Besan (Chick Peas Flour):  Hadn't ever tried before!  The lovely Mrs. Cheryl included a recipe to use it with so I'm pretty pleased!  😀
All in all, this box is gonna be hard to top!!!  So far I've participated three months in the Foodie Penpal program and am excited and loving new products every month!  If you are interested, you should check it out!  Don't worry, if you have allergies or things you just hate, you can let your penpal know so they'll steer clear of those things!
If you enjoy trying new things, I seriously suggest trying it out!!!  You get to share your local favorites with someone and they share theirs with you!  It's a win on both sides!!!
update
The following recipes were from Mrs. Cheryl in the box I got from her.  They are awesome so be sure and check them out!  😀
Coconut Lime Soup
As a little side note, I am LOVING the Orange Honey and if you are from Florida and would like to, I'd gladly accept more!!!  LOL.  But seriously…