Hey everyone!  Don't know if you caught my post on the Foodie Penpal last month, but we've got another one this month!  I am really loving this little penpal thing!  It's a month to month thing, so if you just want to try it one month and try it out, you are golden!  There are new signups every month!  You don't have to be a blogger, anyone can join in! Also, there are participants to multiple countries so there is a good chance that you'll be able to join in.  I know for sure that there is US, Canada and the UK.  I'm not sure beyond that but the awesome lady that puts this together will answer any questions you have!  She has a great list of FAQs and rules to protect us from being ripped off.  😀  Be sure and check it out!  If nothing else, there are some great things on her site.  😀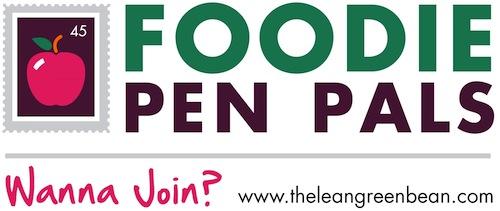 Here is the list I was emailed from the awesome Mrs. Kira who sent me my box!  The most exciting thing was that I hadn't tried any of the products so I got to try all kinds of new stuff!!!  I'll include my thoughts on each.  😀   You can check out the amazing recipes and such at her blog, Hot Cookin' Mama.
The Garlic oil and spices- I have already gone through an entire garlic oil bottle. It's the same idea as the bread and oil/herbs you get at Johnny Carino's. It is SO heavenly!
I will admit I've not been able to try this one yet!  Waiting for the perfect meal, just don't quite know what meal that is yet…  I'm open to suggestions!
The Izze's- I have one of these every single night. I discovered them in glass bottles at a bakery, Great Harvest a few years ago. It's harder to find them in glass bottles, so I settle for them in cans. I pour them over ice and they are absolutely amazing. 90 calories, pure fruit juice with some sparkling water and chucked full of vitamins.
I wasn't a huge fan of Izzy's, but my husband had one and he loved it!  😀  Now we are on the lookout for them around here! 
The Chewy Werthers- I know, it's not very original, but I love those things! I use to eat the hard candies all the time but I feel like the chewy ones are better.
These things are so addictive!!!  I put some in a snack bag inside my purse and they have come in handy quite a bit!!!  Love them!  With that amazing taste, I'm addicted!!!  Adding them to my 'treat' collection!
The Stubb's Marinade- I use this when I'm making kabobs and swear by it. I will only use Stubb's marinades now. Their steak marinade is to die for, too!
Unfortunately, the bottle busted so I wasn't able to try this one.  🙁  I will say though, it smelled amazing!!!  Tip: bubble wrap!  😀  The smell of the box had me drooling!  
The Popcorn- This is from a local candy shop here in Portland. They always sell fun childhood candies like candy cigarrettes and Cinna-Stix! They also sell a local Portland company's "Sock it to Me" socks that are really fun. I take my girls there for Mommy-Daughter dates and they love picking out candies and popcorn!
Ummm…  so yeah…  I ate these rather quickly!  They were amazing!!!  Note to anyone who knows that candy store: send me more please!!!  I put them up and snacked on them from time to time and it was super hard to have just a few!  If I ever go to Portland, I am on this one!!! 
The Rootbeer candies- Again, from the candy shop! It's a blast there!
That rotten candy shop!!!  Going to be checking out our local candy shops to see if they have it here!  I really am enjoying these for a few reasons: 1. I would have never bought them for myself because I'm always afraid I won't like it then I will be stuck with a whole bad I don't want 2. I love root beer!  3. These are great for church!  Thanks to a wonderful woman we called Granny Mae, I seem to think I have to have something to suck on during church.  She got me started when I was little.  Loved that woman, God rest her soul.
I sure hope this post has inspired you to join!  If you can't join in, try something new out!  Who knows, it could be the next family favorite!!!
Originally posted 2013-05-31 00:19:38.