Fonts: How to Pair and Get Free Fonts Now
Fonts can be super fun, especially when crafting and making homemade cards. These days we can even use different fonts on a Cricut machine that we've downloaded! Absolutely love that! The possibilities are endless and they can take our projects to a new level.
It drives me insane trying to figure out which fonts work together when I'm making images. Mainly, because as bloggers we don't generally make money so if we spend 4 hours playing with fonts our lives fall apart. There's far too much other stuff to do and the image should take the least amount of time. Of course, if you understand font pairing, that is probably both faster, easier and less frustrating.
As is my habit, since I need to research it, I am sharing that research and what I'm learning (literally typing as I learn new things, then going back to research at the moment!).
Design Sites
There are a ton of sites (like Fotor which I reviewed some time back) to design graphics and edit photos out there and even the free ones have the fonts already paired, which is awesome except that using them means we end up having the same graphics and designs as every other user.
Learning to pair the different fonts will definitely come in handy on those! I can do design, crafting is in my blood. Now it's time to learn about those fonts!
Five Font Families
There are five different families of fonts, or at least that seems to be the most common amount agreed upon.
'serif' (e.g., Times Roman, Helvetica, and Courier)
'sans–serif' (e.g., Trebuchet, Avant Garde Gothic, Arial, Verdana, Univers, Futura, Stone Sans, Gill Sans, Akzidenz Grotesk, Helvetica)
'cursive' (e.g., Zapf-Chancery)
'fantasy' (e.g., Western)
'monospace' (e.g., Courier)
Expanding Your Typefaces
It could be due to the fact that I'm always on a real budget, or perhaps I'm cheap, but paying to expand a way to 'write' the alphabet just doesn't work for me. Of course, it could also be due to the fact that I know if I work hard enough I might just be able to learn how to draw the fonts. (I learned a lot from the calligraphy books I've reviewed!) Whatever it is, I can't bring myself to pay for them.
Thankfully, it's easy to find a free font that you love through a quick search. I've downloaded three for free (so far) from that link and uploaded them to my Design Cap account to play with. I'm pretty stoked about them!
How to Pair Fonts
With that knowledge, figuring out how to pair them seems to be an endlessly written topic. After hours of searching, the temptation to fill this post with a ton of links got very strong. However, those posts drive me nuts so I don't do them. So, here's what I've learned:
Pair fonts from the same font family.
Mix things up using bold, italics, etc.
Fat (wide) fonts pair well with skinny (thin) ones
Utilize fonts that have more spacing with those that have less space between letters
Serif and sans-serif fonts always pair well together, as long as you utilize some of the above tips
No more than three fonts in a project/design
Pair fonts from the same design era
Only combine ones with the same 'mood' (i.e. don't use the one that looks like a Halloween font with the one that looks like a holiday font)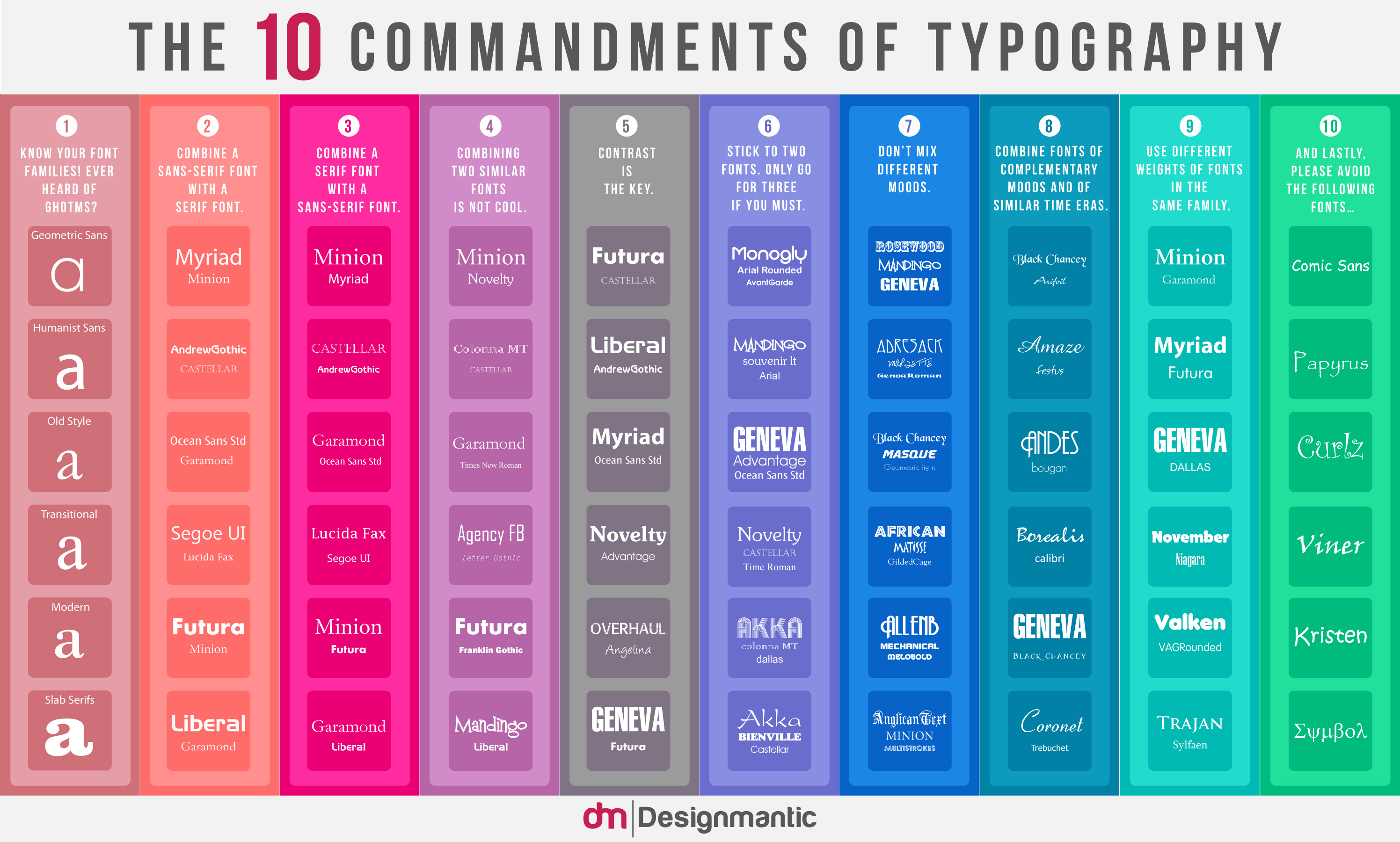 Courtesy of: Designmantic.com
I found the inphographic above from a post of 10 Infographics on How to Mix Infographics Like a Pro. There is a lot of great information to be found there. I know, I said I don't like doing the 10 million links thing, but some are okay. College successfully drilled the need for resources into me so hard blogging can't get rid of it!
Got Any Tips?
If you happen to have any tips on pairing fonts, please share them! The easier, the better! LOL. For real though, please share your beautiful knowledge!